Celebrate effortlessly.
Recycle responsibly.

Paris312 strives to maintain an eco-conscious workplace. We are committed to sustainability and reducing our carbon footprint, so Paris312 takes a proactive approach in creating and maintaining environmental workspace standards.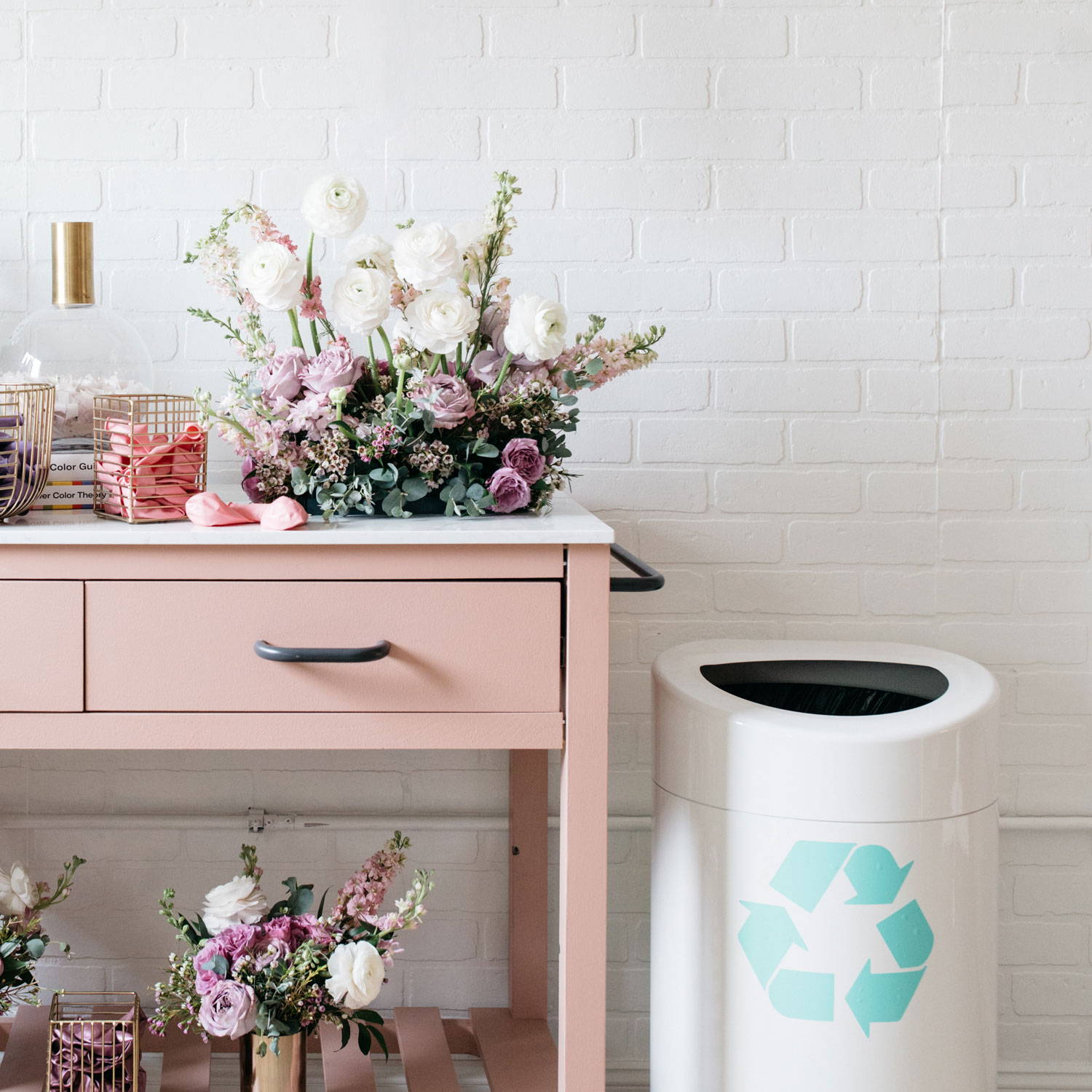 It is our policy that all Paris312 team members take steps to prioritize environmental sustainability in the workplace by following our waste management practices.
PARIS312 COMMITMENT TO SUSTAINABLE PRACTICES



PLANT BASED RUBBER
We always aim to source latex balloons from suppliers that offer 100% biodegradable natural latex.
RECYCLE
We recycle paper, plastic, foil, and cardboard. We also encourage our clients to drop off recycled party goods at any of our locations.
Find a location near you.
REUSE
In order to reduce waste, we reuse bags, balloon weights, floral boxes, foil balloons and poles. We properly dispose of defected foil balloons.  
NO RELEASE POLICY
Party. Recycle. Repeat. At Paris312, we always weight our balloons and include a weight with our helium ceiling balloons. Please do not release balloons into the air
---
UNDERSTANDING BALLOON MATERIALS
PLANT-BASED LATEX BALLOONS
Latex balloons are a plant-based product made from a natural rubber tree called Hevea brasiliensis which does breakdown in the natural environment. However, when balloons become litter they don't degrade sufficiently or quickly enough to prevent possible risk or harm to wildlife.
Eliminating the deliberate release of balloons is essential, which is why we encourage our customers to follow the 'pin it and bin it' policy, as well as promote the responsible use and disposal of latex balloons. Both of these actions are vital for effective environmentally responsible change.
FOIL BALLOONS
Foil balloons (sometimes referred to as mylar balloons) are made from man-made materials such as nylon with an aluminum coating. They are not biodegradable, so Paris312 strongly recommends that all consumers reuse foil balloons when possible or properly recycle them at one of our locations.


MEDICAL HELIUM IS NOT USED TO INFLATE BALLOONS
A leading supplier of helium explains that the helium used to inflate balloons is not pure enough for medical or scientific use. It is a by-product gathered during the production of medical grade helium. The majority of liquid helium boils off in the transfer process.
Instead of wasting this resource, it is collected and recycled. The sale of balloon gas offsets the cost of medical helium.
HOW DO WE DISPOSE OF LATEX BALLOONS?
Our latex balloons are made from 100% biodegradable latex. We source only the highest quality latex balloons ensuring they are not mixed with fillers or added substitutes, some lower quality balloons are mixed with plastics. You can either throw them in your garbage bin or even better cut them in smaller pieces and place it in your compost bin.
CAN WE RECYCLE FOIL/MYLAR BALLOONS?
Foil balloons has a metal coating and so cannot be recycled as plastic. They cannot be recycled at your local municipal recycling center but you can reuse them for fun arts and crafts project. But wait there's more. You can drop off your used foil balloons at Paris312 during our opening hours. We have partnered with a third party recycling center who is able to recycle it.
WHAT ELSE CAN WE RECYCLE/REUSE?
All our paper party supplies can be recycled. Please make sure to follow the instructions on the box on how to properly dispose of them.
Our tassels can be reused as wall, table or fireplace mantel décor. In addition to our foil balloons you can also drop off the weights and column poles at our store during our opening hours.

WHAT IS PARIS312 ECO-POLICY?
We strictly adhere to a no-release balloon policy. We take our commitment to the environment one step further and recycle trough a third party recycling center or reuse 100% of our balloons, weights and party supplies.